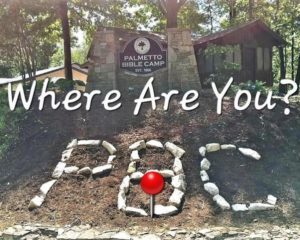 We would like to personally invite you to PBC 6TH Week!  Our theme this year is Where Are You! PBC 6th week will begin on Sunday July 16th and will conclude on Saturday July 22nd. The normal camp age is 8-18; however we have and will allow younger campers to attend with the permission of the Director. We have a great staff that will do their best to make sure your child is taken care of, and spiritually uplifted. Our week is filled with spiritual growth, fun and fellowship, including team activities, games, crafts, sports, skits and Bible classes that are designed especially for campers. Campers have an opportunity meet other campers from congregations from all over and to form meaningful relationships that will follow them for a lifetime. Each year we have a themed dinner, where everyone is welcome to come dressed in their favorite themed attire that evening for dinner. This years banquet theme will be a "STAR WARS THEME"!
PBC 6th week is Directed by Mike Howard from the Golden Strip congregation in Simpsonville,SC. Be sure to follow us on Social Media, we are on Facebook, Twitter, Instagram. For more detailed information about our week please contact Mike Howard @864-905-3228 or 6thweekpbc@gmail.com
We hope to see you 6th Week!
REGISTER HERE
6th Week- Director: Mike Howard/ July 18th-July 24th (Ages 8-18)